We operate the latest Ford Transit 16 seat minibuses. There are overhead luggage racks to store any hand luggage you may have, allowing you more room when seated. All seats are fitted with overhead reading lights, USB sockets and the outer reclining seats, with aisle armrests to make you more comfortable on your journey, along with full air conditioning.
Passengers are more than welcome to ask the driver if they can connect their device through the vehicles entertainment system so everyone can listen to the music, or even to just ask the driver for a particular radio station.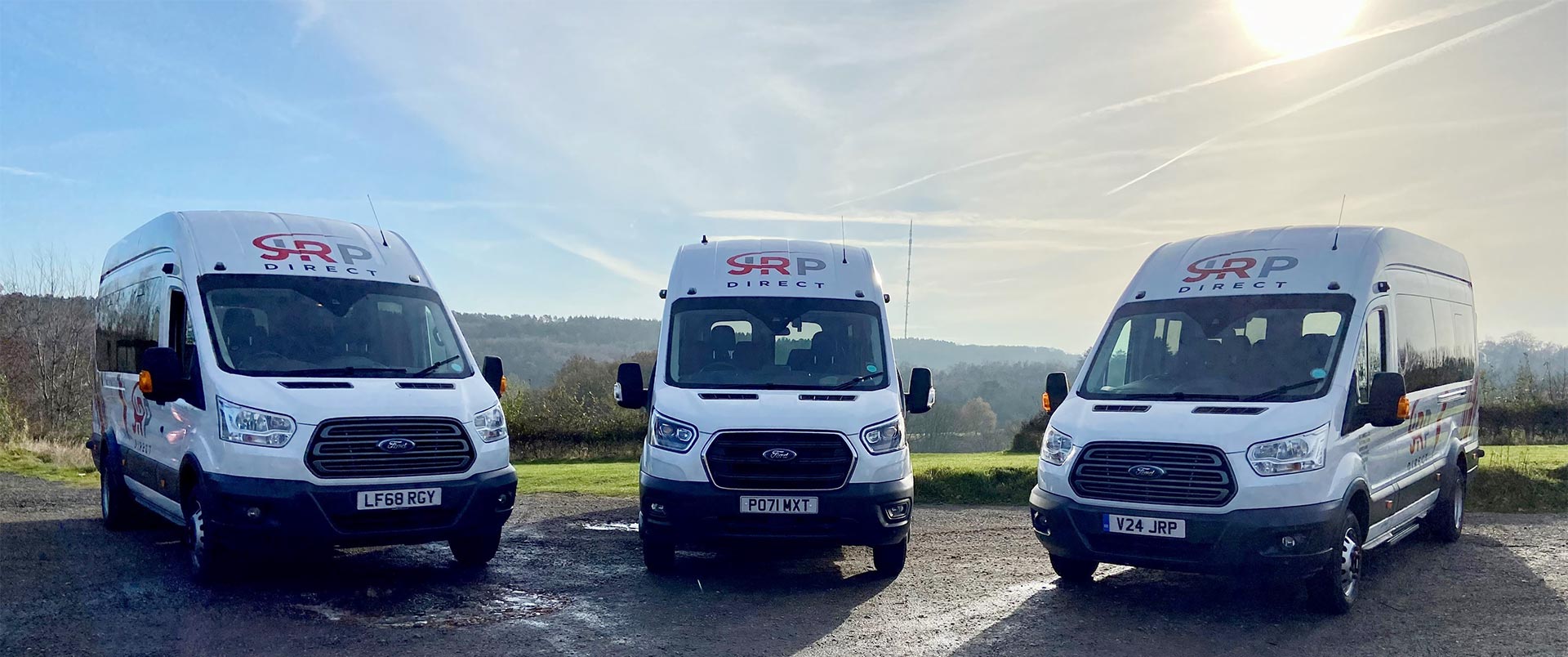 Additional Luggage Space
For those journeys in which you need large amounts of luggage space, such as airport journeys or trips away, you can book to have a trailer along with your minibus. This will allow for up to an additional 500kg in luggage. Or take a look at our luxury mini coach which has a separate luggage compartment behind the passenger area, ideal for those who wish to travel in a little extra comfort.
Also, if we know in advance that there won't be a full load of passengers, sometimes we will be able to remove the back row of seats to create additional luggage space. Maximum passengers for this to happen would be 12. Please note this may not always be available due to other restrictions.
Upon request we offer a couple of extras that may make your journey more enjoyable.
Please note some of these do incur an additional charge.
Bottled water
Other non-alcoholic drinks are available upon request.
4G Wi-FI
Connect your device to the internet, on the go.
Luggage Trailer
Up to an additional 500KG in luggage.
Our vehicles are maintained to the highest standard. Before each job the vehicle is cleaned thoroughly inside and out. We always aim to be at your pick-up point at least 15 minutes before to make sure we are on time for you.
We utilise the latest tracking technology and telematics which enables our office to be able to pinpoint the exact location of our minibuses.
All our minibuses are fitted, inside and out, with CCTV and audio recording equipment. This is for the safety of the customer and the driver.
Also, our vehicles are fitted with Alcolock, an engine immobiliser, meaning the vehicle cannot be started until the driver has blown into the vehicles breathalyser and passed.